Ok first off, this may or may not be the best guide ever. So ya. And this guide will only be using physical jobs( thief, bowman, swordman).
So you start out a lvl 1 beginner and pick a job. It doesn't matter but i would suggest you pick a warrior. Reason? It has slash blast. However, you may choose what ever job you want except for mage.(for now)
Ok, after you pick a job, you will be warped to henesys and automatically level 30. Now, if you chose warrior i highly recommand spearman. Because, it has hyper body which increases your hp. It allows you to survive a longer time and you should be using it until the base of your hp is 30000. Nevertheless, you may pick whatever 2nd job you want.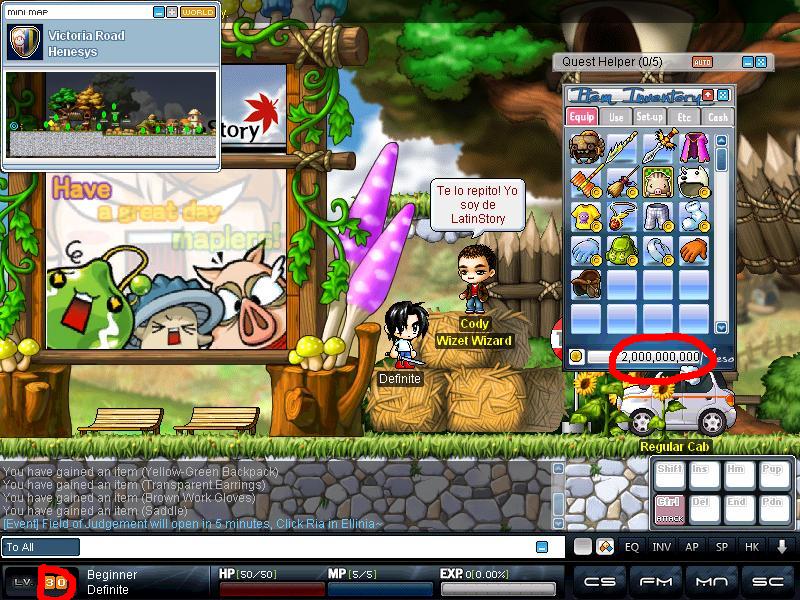 When you finished adding your stats/pick your job, you will notice you have 2billion(correct me if i am wrong). Type @fmnpc and click on the all in one shop. Here i want you to click on ETC. At that point, they will ask you to pick a catagory. Click on *buffs and potions. Right now you can buy pots and buffs at a price of 200. Find Naricain's Demon Elixir and Power Elixir and purchase at least 300 each. Put them in a hotkey that you can press easily. After that, you may want to go back to the all in one shop and buy some weapons, and **scrolls.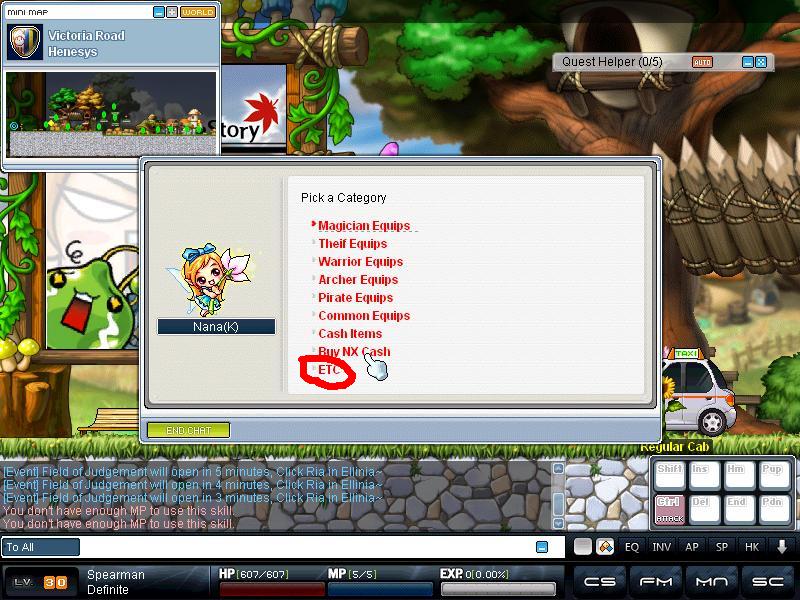 *Incase your still confused where,
@fmnpc(type this) -> All in one shop -> ETC. -> Buffs and Potions.
**For scrolls, scroll down to the very bottom. There there is 100% GM scrolls sold at a price of 200.
@fmnpc(type this) -> All in one shop -> ETC. -> Scrolls(scroll down)
Now, once you done all that( scrolling gloves, buying weapons, etc.), You should type @fmnpc and click on Travel npc. From there click on world tour and click on monster maps. Finally go to ***land of wild boar. There train to at least a level of 40 - 50+. Remember to you the naricain demon elixir.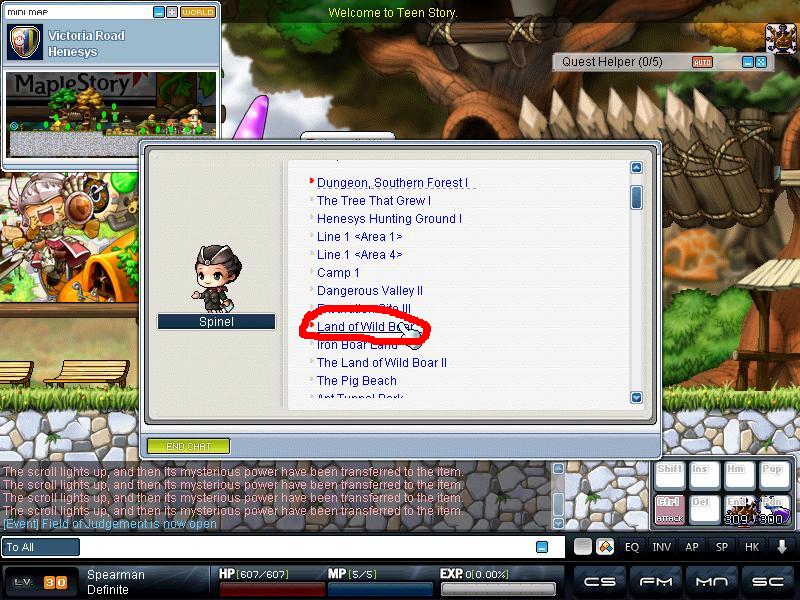 ***@fmnpc -> Travel NPC -> World Tour -> Monster Maps -> Land Of Wild boar
Right now you should be level 40 - 50+. If you scrolled your weapon and glove with the gm scrolls and you are using naricain demon elixir, you should hit about 1k - 2k. Now, the easiest part that is to click on FM. You will be warped to FM entrance. Go to room 10. Once there, you will notice some slimes. Kill them, they give 2147483647 exp.(From lvl 1 - 145 if you kill one of those). Sometimes, there wont be any spawns. Try changing your channel to 2 or 1 if you are in channel 2. Continue killing those and you will have your first rebirth in no time.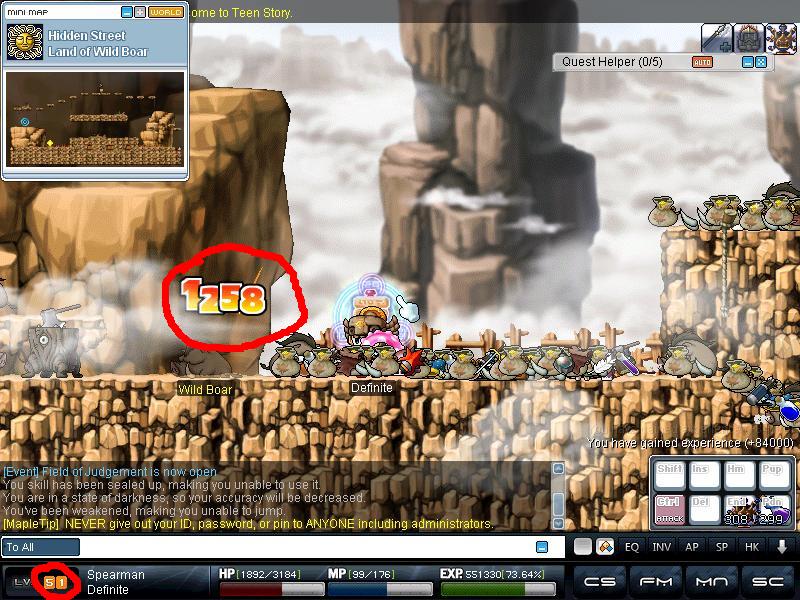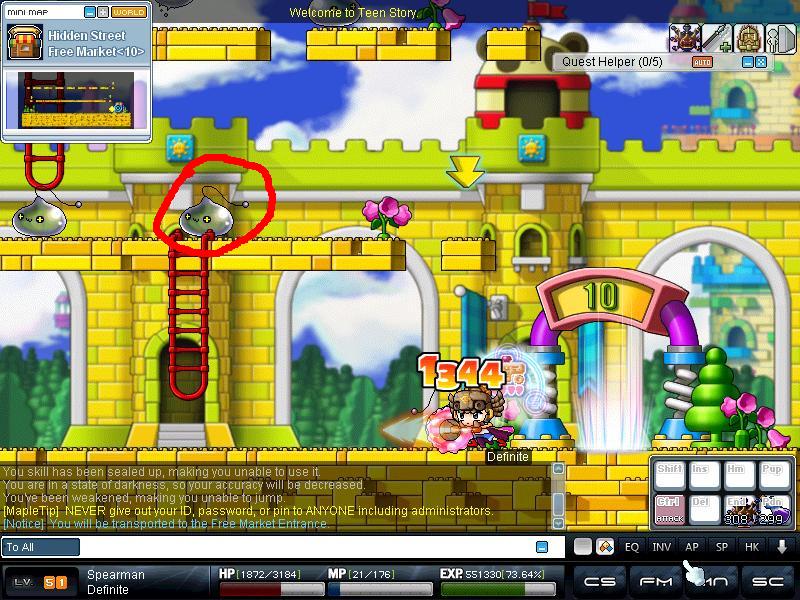 P.S i screenshotted too fast so i there wasn't any experience shown. Also the character is just something i created in a hurry.
===========================================================================
Things i noticed after trying it out.
1) you wont have enough mp at the start.
2) The slime dont really have much hp.
==============================================================================
Again this might not be the best/efficient method, but it should help the newcomers.
Note: Naricain Demon Elixir adds 140 wa for 8 mins. Power elixir heals your total hp and mp.
Any questions, pm me in forums or ingame. My ign is Difference.
No flaming tyvm.